Barry 2-6 The New Saints
Jenner Park, Barry / JD Cymru Premier / Saturday 21 October 2023
Attendance: 340
The scoreline shows that Barry were well beaten by league leaders, The New Saints, but the match itself had a different feel.
After an hour, Barry had equalised to make it 1-1, but the professional side turned the screws and
scored five in a second half similar to Barry's 6-0 win over Porthcawl last week.
In a frenetic start, the first chance came to Barry after less than thirty seconds, Keenan Patten firing
narrowly over the bar with a shot outside the box.
At the other end, goalkeeper Luc Rees pushed away an on target effort from Gary Brobbel.
Brobbel hit the post before Saints took a 20th minute lead. A Barry corner was cleared and Brad Young ran the length of the pitch before scoring past Rees. A frustrating goal to concede.
Rees was again on top form in saving from Young a few minutes later.
Just after an hour, Barry levelled. This time, TNS failed to clear a near post corner and it bounced across the box for Ollie Hulbert to head in.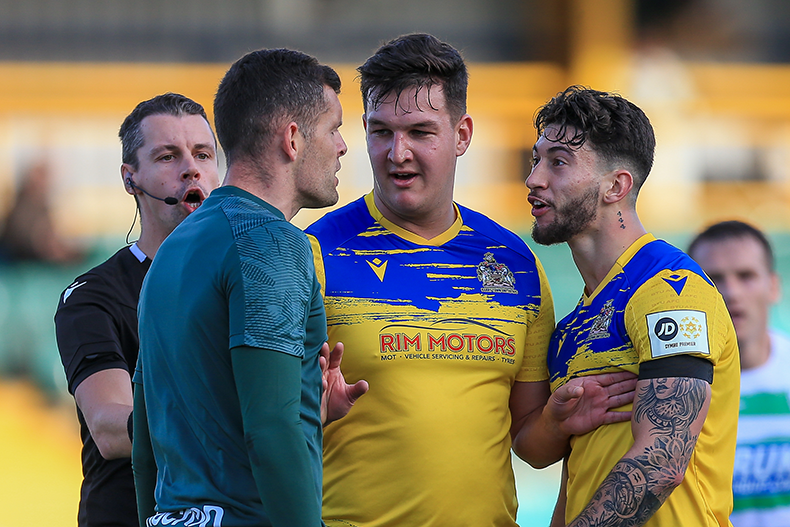 Sadly, that scoreline lasted only five minutes as Brobbel's free-kick was headed in unchallenged by Danny Davies at the near post.
Suddenly, the ball found itself within the Barry six yard box with uncomfortably frequency, the Saints scoring four goals in a 15 minute spell.
Brad Young scored the third and Josh Daniels the fourth, both goal poaching within the six yard box as Barry failed to clear their lines.
A cross from Adrian Cieslewicz was turned into his own net by Barry defender Troy Greening as he tried to clear, while Young scored his hat-trick with the sixth goal.
Barry gained some consolation, with Hulbert's 93rd minute header crossing the line, from Harrison Bright's cross.
Barry now face two crunch Cymru Premier matches, Colwyn Bay away next Saturday then Aberystwyth at home on Saturday, 4th November.