Barry 2-0 Pontypridd
Jenner Park, Barry / JD Cymru Premier / Tuesday 17 October 2023
Attendance: 371
A dominant Barry performance saw them take revenge over the club of former boss, Lee Kendall.
The home side were in charge of the game from the start, with hometown boy, captain Kayne McLaggon, making his 200th appearance in a Barry shirt since signing in 2017.
McLaggon almost opened the scoring in the sixth minute, his blistering effort from the edge of the box being pushed onto the bar by Ponty 'keeper, George Ratcliffe.
It was a busy night for Ratcliffe, probably the best 'keeper in the Cymru Premier, who played on loan at Barry in 2019.
Barry opened the scoring in the 13th minute. McLaggon and Hulbert created space on the left for a low cross. Keenan Patten dummied the shot and then Harrison Bright steamed in at the far post to shoot low past Ratcliffe.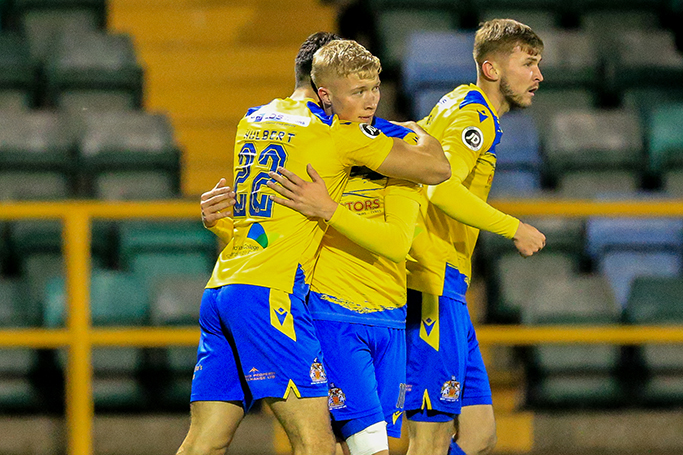 The second goal came on the half-hour. A corner from the Barry left was inexplicably handled by Jarrad Wright and immediately given as a penalty.
McLaggon's penalty was saved by Ratcliffe as he dived to his left, but he could only parry, leaving Kayne to put the ball into an open net.
At the start of the second half, a low cross from Rhys Davies was almost met by Jamie Veale, but he couldn't direct the shot towards goal, while Ratcliffe pulled off two saves from both Patten and
McLaggon.
It could have been 3-0 in the 81st minute, with Mike George and Hulbert setting up McLaggon, but his final touch took the ball wide.
With eight minutes of second half injury time played, Barry boss Steve Jenkins was pleased when his side not just won the match, but kept a clean sheet with it.
Although out of the Cymru Premier relegation zone, Barry's bounceback faces a tough challenge in leader leaders The New Saints on Saturday (2:30pm kick off). The clubs drew 2-2 at Oswestry earlier in the season.